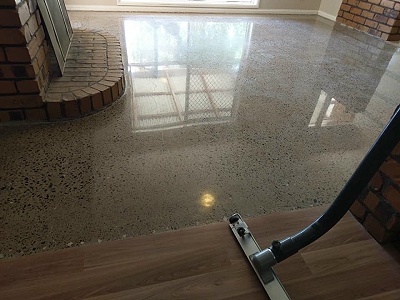 Hines Flooring Solutions specialise in:
NO EXPOSURE – SALT & PEPPER LOOK
This is where no stone or aggregate is desired and minimal grinding is needed. The polishing process can begin almost immediately. If the concrete surface is not flat, additional grinding may be required and this may result in exposure in stone and aggregate.
RANDOM EXPOSURE
Random exposure is where the stone/aggregate is inconsistent. Some areas of the concrete have more exposure than others. This finish is very popular as it has a lot of character and no two floors are the same.
WAREHOUSE FINISH
Warehouse finish is the look that applies to slabs that are not new and have had damage. For example, cracks chips, stains and other imperfections that may have occurred over the years. These concrete areas can be repaired and polished resulting in a rustic, earthy look. Areas like this will require grinding and will expose some level of stone/aggregate. This type of finish is very popular in retail stores, cafes and older homes and can be polished to a matt, semi-gloss or gloss finish.
HONED CONCRETE – GRIND & SEAL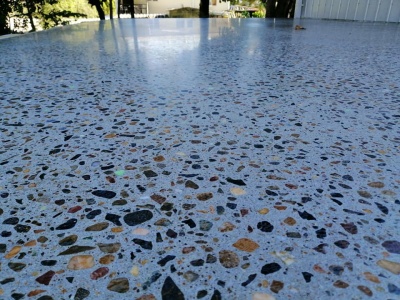 If you like the look of polished concrete but require a non-slip surface for external use, then honed concrete is the perfect choice for you. It is an extremely high quality product with maximum appeal which requires minimal maintenance. Exposed concrete is honed to create a semi-polished finish that is stylish, durable and the perfect result for driveways, paths, alfresco & patio areas and pool surrounds giving you that naturally beautiful surface.
MECHANICAL FULL EXPOSURE
Full exposure is where the maximum possible exposure of stone/aggregate is desired. This requires extensive grinding and is more suitable for new builds where the concrete slab has been specifically poured to be polished and the contracted concretor is experienced in laying polished slabs.
Concreting manufacturers will be able to assist with stone/aggregate choices available.
HINES FLOORING SOLUTIONS
Hines Flooring Solutions creates stunning polished concrete floors for Residential, Commercial and Industrial applications.  Concrete polishing is a popular and smart flooring solution and is fast becoming the must have environmentally friendly flooring option. Whether it is for your home, entertaining, reception, warehouse or retail areas, polished concrete is the ideal choice if you want long lasting floors that can withstand heavy traffic. Hines Flooring Solutions has extensive knowledge and expertise to assist customers in creating a visually impressive look to their existing or new floor.
Mechanically polished concrete flooring is designed to outlast and outperform other flooring alternatives and you can choose the level of sheen from satin to high-gloss. Our concrete polishing pads and diamonds are first-class products ensuring an impressive finish. We use the best industrial equipment and our processes will significantly contribute to create an attractive, sleek and smooth professional concrete floor.  At Hines Flooring Solutions we continue to develop and improve with the latest industry trends and technology advancements.
At Hines Flooring Solutions our goal is to provide you with the perfect floor to suit your specific needs and budget.  We pay particular attention to detail and a genuine desire to achieve the best possible outcome for your project, guaranteeing high-quality workmanship to leave YOU our customer satisfied.
So why not get in touch with one of our friendly staff for a free no obligation quote today!