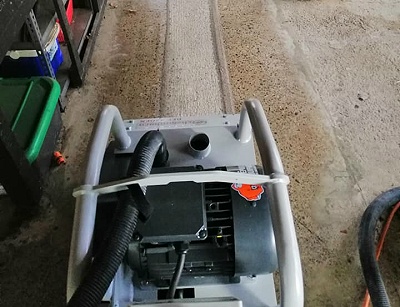 Hines Flooring Solutions specialise in:
SLAB LEVELLING AND RESTORATION
LEVEL CONCRETE PATHWAYS AND DRIVEWAYS
REMOVAL OF EXPOSED AGGREGATE
INLAY GROOVING
SMOOTH UNEVEN CONCRETE SURFACES
FOOTPATH TRIP HAZARDS
STAMPED CONCRETE REMOVAL
Hines Flooring Solutions use fast high powered concrete scarifiers for preparing concrete surfaces with speed and efficiency.  It is one of the most productive pieces of surface preparation equipment for heavy removal jobs and to eliminate trip hazards in concrete as well as stubborn product removal. Scarifiers remove concrete faster and more aggressively than grinders due to the pummelling action of the cutting wheels that rotate at very high speed.
Effortlessly resurfaces and levels concrete, removing paint, glue, tar and fibreglass. They can also be used in more Industrial/Commercial projects to remove screeds of thick brittle coating membranes, removing layers of concrete, asphalt and scale off steel. Depth of pass varies depending on the power of the machine and hardness of the material being scarified.
Contact Hines Flooring Solutions to ensure the correct equipment is selected so your job is completed quickly and cost effectively.